Navan Global Review – Scam or Legit CBD Oil MLM?
You made it to our Navan Global review!
So you want to learn about the products and services of this MLM company.
There are many reviews out there about this opportunity already. But what makes our review different than the rest.
For one, I have been marketing for a while and know a lot about network marketing.
Secondly, I know what a law abiding company looks like.
If they are not compliant in any way shape or form with the law, I will let you know as soon as possible.
Now that I got that out the way.
I want you to know that I did extensive research on this CBD MLM and I found out all the juicy details regarding their products and business opportunity.
All I ask is you pay close attention.
And yes, I will have actual sources to back up my thoughts and I won't just be adding my worthless opinion.
Moving Forward.
Navan Global Review
I want to be blunt with you, I set a general rule of thumb for any network marketing company before I join.
"They must be transparent about who they are." And if they aren't I usually avoid them altogether. Navan Global has no information about themselves, despite having a whole about us page that is hardly helpful
If you visit the about us page you will be presented with a short message that reads…
After 12 years in the industry, we became disenchanted with the status quo. We were tired of seeing good people, who were trying to improve their lives, being taken advantage of.

When we could no longer find a company we trusted to build a team with, we knew it was time to fix the problem and create our own.
The only way I could find information about the CEO is through a press-lease that took place in October of 2019.
Unfortunately, if I had not searched for it as hard as I did, I probably would have never realized that Trey Knight was the one running the show. [1]
Here is a photo of Trey Knight:
Trey is known for an old disaster that took place within a company called Hi-Tech Marketing.
There was a lawsuit going on and people involved were being sued, including Trey.[2]
The company did get shut down for being a Pyramid scheme. However, Trey ended up walking away without any real problems.[3]
Limu in 2011 was his next stop. He began promoting that for awhile as an affiliate.[4]
After working Limu, Trey decided to transfer over to Sozo Global where he acted as the president of the company. However, it was not a big success. Eventually, that company got purchased by Youngevity in 2016.[5]
He either took a break or was working in the shadows around 2016 and 2019. There was no activity going on with him as far as his network marketing career goes..
He eventually reappeared as the head of Navan Global
As far as the founder goes, they hardly talk about the guy for whatever reason.
All of this research is done on mt own.
It should have been conveniently talked about on their website for people. That way, if yo that want to know about the CEO, you could easily learn.
It's not a deal-breaker I guess, but It's not ideal either.
Getting into their products.
Navan Global Products
Navan has a selection of CBD based products. The company focuses on wellness within the network marketing industry.
As far as how good their products are, this is what they have to say…
use only 100% organic hemp, grown and processed at farms and facilities in the United States.
I don't if what they are saying is 100% honest, considering that I have no reason to believe them, it makes sense to give them the benefit of the doubt.
In that case, I would have to say what they are offering sounds great.
You can have a sneak peak into what they are selling and some of the benefits of using their products:
CBD Tincture – "a safe, non-toxic approach that has a balancing effect on the body and mind", retails at $95 for a 1 oz bottle (30 ml)
Daily Detox Plus – "a micronized zeolite solution that helps support the body's ability to naturally capture and eliminate toxic heavy metals and toxins", retails at $83.95 for a 1 oz bottle (30 ml)
Dream – "say good-bye to sleepless nights and get your rest on", retails at $59.95 for a 1 oz bottle (30 ml)
Regen-X – "formulated to help boost your natural production of HGH", retails at $110 for a 3.5 oz bottle (183.5 ml)
Relieve – inflammation cream with "Enriched with high concentrations of CBD, Arnica, Vitamin B6, and MSM", retails at $83.95 for a 4 oz tub (120 ml)
Renew – "moisturizing lotion that combines high-concentration CBD with all-natural coconut oil, aloe vera, and other essential oils", retails at $79.95 for a 2 oz tub (60 ml)
Restore – "a powerful mixture of 92 trace minerals", retails at $71.95 for a 1 oz bottle (30 ml)
Bath Bombs – "soak away the stress of everyday life — while getting some much-needed natural benefits", retails at $90.59 for a jar of six varieties
CBD Gummies – "made with many of the same ingredients as our other CBD products, including all-natural CBD from hemp plants grown in the U.S.A with zero THC", retails at $75.95 for a bottle of thirty gummies
Based on their overview, it sounds like they are offering some pretty good stuff. Also, the pricing seems realistic, especially if the quality is there.
Navan Global Compensation Plan
The great thing about the business side is that you can get rewarded for selling their CBD products. Moreover, they also compensate you when you help them bring in more affiliates.
Navan Global Ranks
Having ranks to achieve gives you something to aim at and keep you motivated. The requirement to reach these ranks are listed below.
There are a total of 14 of them, each having their own criteria:
Manager – produce and maintain 100 PV and 500 GV a month, and sponsor and maintain two affiliates
Director – maintain 100 PV a month, generate 1500 GV a month and maintain two personally sponsored affiliates
Executive – maintain 100 PV a month, generate 4500 GV a month and maintain two personally sponsored affiliates
Sapphire – maintain 100 PV a month, generate 10,000 GV a month and maintain two personally sponsored affiliates
Ruby – produce and maintain 200 PV and 25,000 GV a month, and sponsor and maintain three affiliates
Emerald – maintain 200 PV a month, generate 50,000 GV a month and maintain three personally sponsored affiliates
Diamond – maintain 200 PV a month, generate 100,000 GV a month and maintain three personally sponsored affiliates
Double Diamond – maintain 200 PV a month, generate 200,000 GV a month and recruit and maintain four affiliates
Black Diamond – maintain 200 PV a month, generate 350,000 GV a month and maintain four personally sponsored affiliates
Royal Black Diamond – maintain 200 PV a month, generate 500,000 GV a month and maintain four personally sponsored affiliates
Crown Blue Diamond – maintain 200 PV a month, generate 750,000 GV a month and sponsor and maintain six affiliates
Double Crown Blue Diamond – maintain 200 PV a month, generate 1,000,000 GV a month and maintain six personally sponsored affiliates
Triple Crown Blue Diamond – maintain 200 PV a month, generate 1,500,000 GV a month and maintain six personally sponsored affiliates
Presidential Diamond – maintain 200 PV a month, generate 2,000,000 GV a month and maintain six personally sponsored affiliates
If your new to networking marketing businesses then "PV" is basically all of the sales that you obtain either through retail sales or your team.
GV is not much different. It just pertains to the results of the affiliates you recruited and their downline.
Retail Commissions
You get a piece of the pie off of each and every sale you generate for Navan Global. It goes up to 20% on commissions.
You may think that is low but it adds up and it's actually a pretty generous payout in comparison to other network marketing businesses.
So this is a really good thing for you business-wise.
Residual Commissions
They do offer residual income. It's done through a uni-level compensation plan.
A unilevel compensation structure places an affiliate at the top of a unilevel team, with every personally recruited affiliate placed directly under them (level 1):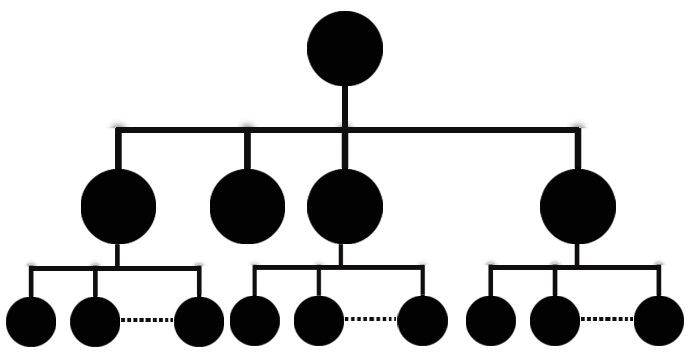 If any level 1 affiliates sponsor a new affiliate, they are put on level 2 of the original affiliate's unilevel team.
If any level 2 affiliates sponsor a new affiliates, they are put on level 3 and so on and so forth…
Now Navan Global doesn't have any limits to the amount of levels, but cap you according to GV in any one unilevel leg:
60% for Manager and Director
50% for Executive and Sapphire
40% for Ruby and higher
You are required to have 100 PV at the end of each monthly period, or else you will not be qualified to receive a payout. It's important to know that.
Commissions Caps
Navan Global residual commissions caps will depend on your affiliate rank:
Managers earn $100 a month
Directors earn $250 a month
Executives earn $750 a month
Sapphires earn $1700 a month
Rubys earn $4000 a month
Emeralds earn $8000 a month
Diamonds earn $15,000 a month
Double Diamonds earn $25,000 a month
Black Diamonds earn $45,000 a month
Royal Black Diamonds earn $65,000 a month
Crown Blue Diamonds earn $90,000 a month
Double Crown Blue Diamonds earn $120,000 a month
Triple Crown Blue Diamonds earn $160,000 a month
Presidential Diamonds earn $220,000 a month
Rank Bonus
Each time you rank up, you will get rewarded for it at the folloing rate:
Manager – $100 (if qualified for within first 30 days)
Director – $300 (if qualified for within first 60 days)
Executive – $1000
Sapphire – $2000
Ruby – $4000
Emerald – $8000
Diamond – $15,000
Double Diamond – $25,000
Black Diamond – $45,000
Royal Black Diamond – $65,000
Crown Blue Diamond – $80,000
Double Crown Blue Diamond – $100,000
Triple Crown Blue Diamond – $130,000
Presidential Diamond – $200,000
Only conditions are if you are Executive to Diamond, you must have maintain that a month before.
If you are Double Diamond or higher, you must have maintained that two months before in a row.
This is paid through two installments…
How Much Is it to Get Started
Joining is pretty expensive in my opinion. I guess it's worth it if the opportunity suits your need. You can expect an out of pocket expense between anywhere from $200 to $999.
I really depends on the package you want:
Starter Pack – $299.95
Business Builder Pack – $499.95
Ultimate Builder – $999.95
Depending on your marketing goals and budget, you will pick a package. The more products you want at a time can be determined by what package you purchase.
Should you buy any package at all? Good question.
I got you covered if you stick to the end of this review.
My Final Words
I support network marketing companies that are good.
Normally the one's that I come across are absolutely garbage. In this case, Navan Global is actually pretty good by my standards.
They have products in a really hot niche right now. Ever since they have been legalizing marijuanna all over the world, people have been more open to CBD and it's benefits.
Of course, I do want to address a couple of things that aren't sitting right with me.
If you paid attention to the compensation plan, it probably felt like it was ALL about recruiting and not the product.
What does it matter? Well, not every compensation plan is compliant with the FTC. I think they should pure more emphasis on the products and that way they can avoid any future trouble.
It appears that Navan Global did not really make their own product. Instead they used a third-party white-label service, meaning thousands of other network marketing companies probably are using the same stuff.
Now when you copy and paste this paragraph below:
Our proprietary "hybrid broad-spectrum" process produces the world's purest CBD while preserving the plant's other valuable cannabinoids, terpenes, amino acids, and essential oils necessary to ensure the highly sought after "entourage effect.
If you copied and pasted that text into Google, you would have seen 1800 search results, meaning that is an idea of how many companies have the same exact product on the market.
I guess it's not a big problem, but it is if your looking for something unique to bring to the table.
I noticed that others that use the same white label products have huge varying pricing. On Navan, I have seen a price tag of $95 for one of their products. The same exact product ran for $69 on another company.
Maybe their are slight differences or they are exact same. One thing for sure is both companies were using the same white label company.
At teh end of fay, all you can do is compare the other options.
Navan Global is still perfectly legal either way and are definitely on a path to greatness.
However, they should get affiliates more retail bonuses, it can keep them out of trouble, and from being potentially classified as a Pyramid scheme. We don't want that.[7]
I have my own online business. I used a program that provides you with mentoring and they teach you how to start a business from scratch or scale the current business that you're in.
Your one click away from working with your own personal mentor, simply click the banner:
They customize a plan that works for you then lay out an easy to follow blueprint, detailing every step to take from A-Z to build an online business.
Things like finding a niche and products will be covered!
You don't even have to start from scratch. If you have a company that you're in such as Navan Global, they can show you how to dominate in your opportunity.
Honestly, there is unlimited potential with our team.
And it's kind of hard to fail when you have a team helping you along the way.
Thanks for reading my Navan Global Review.
Good luck in your journey,
-Tomas Bishop
P.S.  need help earning money the right way online, click this URL and see how you can work with a personal coach to point you in the right direction.