GoArbit Review – (2020) Legit 200% ROI Crypto MLM OR Scam?
You made it to our GoArbit Review!
So they claim they can triple your money. I see why they have gotten so much attention. They not only say they flip your money but all of your results are guaranteed, meaning you need no experience.
I must admit that it sounds too good to be true.
That's why I'm here with the facts.
Forget about all those unbiased reviews on GoArbit.
This review is fact based only on facts.
GoArbit Review
GoArbit seems to have no interest in letting us know who they are and where they are from. However, they have a surplus of information on how you can begin earning money with them
I had to do my own detective work just to find out how long they have been operating. According to their WHOIS results, you can see hat the domain had "GoArtbit.com" had been bought on January 26th, 2020.
Unfortunately, their WHOIS info could only reveal so much. Whoever is behind GoArbit clearly didn't want people snooping around and they set public information to private.
Their was an address but that was about it.
14455 N. Hayden Road

Scottsdale, Arizona

85260

USA
If you had been watching GoArbit for a while, you probably saw some of their advertisement efforts. In one of their promotional videos, they actually spoke on the CEO.
They shared the name Maximo Martinez and name him the CEO.
This guy is supposedly somewhere out in the Dominican Republic.
It looks like he has had no other projects before GoArbit. If you search his name on Google, you won't find a single thing about him.
I'm not going to lie. I thought maybe it was a paid actor or something. The CEO usually has some type of digital footprint, like a personal Facebook page or something.
But on their fan page, he actually went live to speak about GoArbit. So, I guess he is REAL:
GoArbit does not have much history considering they are basically brand new. Also this company seems to be the first business ever ran by the CEO.
This pretty much sums up what we know about them. Moving forward.
GoArbit Products
Besides their insane claims to make people huge money, they don't have anything to look at, meaning no products or services are being offered
Your choices are simple.
Invest for a promised return on investment or recruit and bring in referrals for commissions.
GoArbit Compensation Plan
Signing up and investing enters you into their passive income program. GoArbit claims that users can see up to 1.5% daily on their investment.
They simply have to invest in one of the following plans:
Go tier affiliates invest $50 to $50,000 and receive 0.5% a day
Silver tier affiliates invest 2.5% over Go and receive 1% a day
Gold tier affiliates invest 5% over Go and receive 1.5% a day
Earnings take place every single day. They allow you to watch your investment go up in profit. There is no limit to how much you can invest.
However, you cannot earn anything more than 200% ROI.
The packages that cost the most, earn the most. So "Silver" and "Gold" will yield the most results.
There is a 10% fee on all ROI and commission withdrawals.
Referral Commissions
Once you begin bringing in affiliates, you can start seeing a percentage of whatever they invest. So if they are a Go tier member, you earn 5% of everything that they invest.
Go tier affiliates earn a 5% referral commission rate
Silver tier affiliates earn a 7% referral commission rate
Gold tier affiliates earn a 10% referral commission rate
Residual Commissions
Earning residual income is possible through their unilevel compensation plan.
The system automatically places YOU at the top of the binary structure. Then it splits into two sides (left and right) as illustrated below: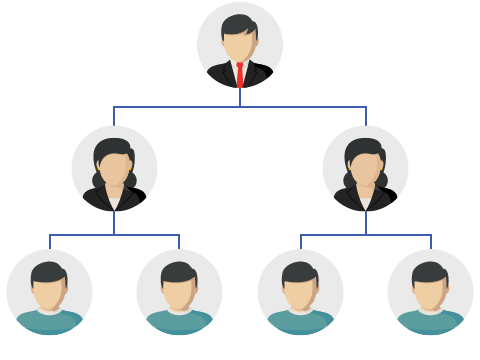 If any level 1 affiliates sponsor a new affiliate, the system will place them on the second level of the original affiliate's unilevel team.
If any level 2 affiliates sponsor a new affiliates, the system places them on the third level. At this point, you probably get the point of how this works.
This continues to split unlimited lengths deep, but a MLM will have some kind of cap on this..
These positions can be filled up directly or indirectly by team members.
Residual commissions are generated from invested funds on both sides of the binary.
Commissions are then paid out as a percentage on the investment volume on the weaker leg.
Any left over volume is carried over:
Go tier affiliates earn a 5% residual commission rate
Silver tier affiliates earn a 7% residual commission rate
Gold tier affiliates earn a 10% residual commission rate
GoArbit Withdrawal Bonus
GoArbit affiliates are paid a 2% bonus on withdrawals that are made by personally sponsored affiliates.
Rank Achievement Bonus
There are 5 rank achievements. You qualify them by reaching a certain amount of volume in your recruiting efforts. Rank bonuses include real physical rewards such as an IPhone Pro 256GB
Executive (make $10,000 in total weaker binary team side volume) – get an iPhone Pro 256GB
Manager (make $20,000 in total weaker binary team side volume) – get a MacBook Air
Director (make $60,000 in total weaker binary team side volume) – get a Rolex watch
National Director (make $400,000 in total weaker binary team side volume) – get a BMW 235I 2020 model
Ambassador (make $2,000,000 in total weaker binary team side volume) – get an Audi R8
How Much Is It To Get Started?
To set the record straight, whatever you spend is to invest into their program in hopes of profit. The lowest plan is $50.
But at the end of day your still faced with a big choice. Invest or not to invest, right?
It might be a hard choice if you're not familiar with this business model.
I happen to know a thing or two about how this thing works.
Stick to the end, and you won't regret my final thoughts.
My Final Words
Am I the only one that thinks something strange is going on?
I know it's possible to make money online. But the way GoArbit talks about their program, it just seems like a get rich quick scheme.
You can see 200% ROI just for throwing cash into a system that no one really knows anything about?
I know that they talk about how they can do it. They share information about how they invest the funds into legit third party opportunities.
I don't know that to be the truth. Where is the evidence of this?
At the end of the day, it's always the same with these programs that promise you earnings. They ALWAYS talk big but never have any supporting facts for any of their claims.
You have to start asking yourself the reason for that.
And honestly, GoArbit seems to have unlocked the keys to fixing poverty around the world. We could gather everyone up in the world and have them put their money in and get insane results like they are talking about…
Everybody could do it and make more money then they could at their job.
The reason it's not happening is that GoArbit is a ton of hype.
They can't sustain a business model like this. The way it works is that they take the funds from everyone and put it into a pool. Whoever is next in line gets paid.
The thing is that if people stop signing up, they no longer have new revenue to add to this pool. This means people will not be paid, resulting in a crash and tons of upset people.
Not good.
Definitely a ponzi scheme.[1]
With that being said, I could not possibly support a company like GoArbit.
Now if you're ready for a real change, and no longer want to be chasing get rich quick programs then you should hear me out!
Your one click away from working with your own personal mentor, simply click the banner:
With a real mentor behind you, it will be much easier to build a thriving online business.
Our program shows you REAL business techniques that are being used by successful entrepreneurs.
You learn about the top 3 business models and how to get started today.
The best part is that your personally assigned mentor will help you through the process of getting set up and earning.
Thanks for reading my GoArbit Review.
Keep Up with Me:
Check out my channel on YouTube
Good luck in your journey,
-Tomas Bishop
P.S.  need help earning money the right way online, click this URL and see how you can work with a personal coach to point you in the right direction.