Fund My Home Review – Scam or Legit Mortgage MLM?
You made it to our Review of Fund My Home.
It doesn't matter how you came across this program. The good thing is that you're here and ready to learn more about this opportunity.
I understand your interest in this company. They are offering you a chance to get paid straight from your laptop. During these times, it's been a dream for many people to work at home.
Sadly many places are on lock down and as a results of a vicious virus, companies have been laying workers off left and right.
Of course you can't just join any company. We need to know the facts. That is where I come in at.
I hope your ready for my honest opinion.
Review of Fund My Home
If a company wishes to make a strong impression, I think a good start is having a good history right? Unfortunately the history is limited when we don't know things about who is operating the business.
No sort of identity of any person or staffing is revealed on the "Fundmyhome.org" website.
As a results of snooping around and putting things together, you may notice that there is marketing material for Fund My Home on the website Real Estate Mortgage Grants.
Information on the website "realestatemortgagegrants.com" helped me figure out the actual CEO.
Carlos Burattini is the sole creator and owner from my understanding.
I thought maybe he would have some information about himself but I wasn't able to find out much about him.
However his Facebook contained where he was from, revealing Florida as his location
If you don't know, Carlos built Fund My Home Home in the real estate niche.
It's interesting that if you check in with Florida, you can see that his license for real-estate had actually been revoked in 2011 as a results of complaints.
Unfortunately I have no clue to what the complaints were in specific.
Considering what his company is actually about (real-estate), and then knowing that he doesn't even have a license, likely from doing something wrong, it doesn't look very well for Carlos.
I'm just being honest.
Definitely not a good way to impress people looking into Fund My Home.
Moving forward!
Fund My Home Products
Fund My Home's services include prescreening clients for potential mortgages.
This is made possible via Real Estate Mortgage Grants & Down Payments Assistance, Inc., a 501(c)(3) non profit organization. Or at least, that's what Fund My Home claims.
Both Real Estate Mortgage Grants & Down Payments Assistance and a bunch of other companies was incorporated by Burattini in Florida.[2]
They have a couple of options users can take advantage of and here is the available info and pricing.
$39 for a credit report
a minimum of $3000 for earnest deposits
~$450 for an appraisal report and
$350 for a home inspection report
These are all of the pricing available. Apparently, this is all affordable by there standards. I wish I could be the judge of that, but I seen very little information on the actual services so I can't say.
Fund My Home Compensation Plan
Fund My Home's compensation plan takes that $3200 from applicants and uses it to pay commissions.
Fund My Home Ranks
In this company, there are 9 ranks you can achieve inside this company.
Below is the break down on what you need to qualify for each rank:
ffiliate – get started as a Fund My Home affiliate
Bronze – sponsor two affiliates
Silver – sponsor three affiliates
Gold – sponsor four affiliates
Platinum – sponsor five affiliates
Sapphire – sponsor six affiliates
Ruby – sponsor seven affiliates
Emerald – sponsor eight affiliates
Diamond – sponsor nine affiliates
Titanium – sponsor ten affiliates
Commission Qualification
In order for you to qualify for commissions in Fund My Home, you must:
sponsor two affiliates; and
produce one down payment assistance customer annually.
Retail and Sponsoring Commissions
Fund My Home affiliates can earn $750 per produced down payment assistance customer.
This can be either a retail customer or sponsored affiliate.
Residual Commissions
Fund My Home pays residual commissions are paid through a unilevel compensation plan.
A unilevel compensation structure places an affiliate at the top of a unilevel team, with every personally recruited affiliate placed directly under them (level 1):
If any level 1 affiliates sponsor a new affiliate, they are put on level 2 of the original affiliate's unilevel team.
If any level 2 affiliates sponsor a new affiliates, they are put on level 3 and so on and so forth…
Fund my Home caps their unilevel at 8 levels deep.
Below is the commissions you can earn on the $3200 fee's charge to down payment assistance customers.
Bronze ranked affiliates receive $500 on level 1 (personally recruited affiliates) and $450 on level 2
Silver ranked affiliates receive $500 on level 1, $450 on level 2 and $400 on level 3
Gold ranked affiliates receive $500 on level 1, $450 on level 2, $400 on level 3 and $350 on level 4
Platinum ranked affiliates receive $500 on level 1, $450 on level 2, $400 on level 3, $350 on level 4 and $300 on level 5
Sapphire ranked affiliates receive $500 on level 1, $450 on level 2, $400 on level 3, $350 on level 4, $300 on level 5 and $250 on level 6
Diamond ranked affiliates receive $500 on level 1, $450 on level 2, $400 on level 3, $350 on level 4, $300 on level 5, $250 on level 6 and $150 on level 7
Titanium ranked affiliates receive $500 on level 1, $450 on level 2, $400 on level 3, $350 on level 4, $300 on level 5, $250 on level 6, $150 on level 7 and $50 on level 8
How Much is It to Get Started
There is a price tag on becoming a member. It's $49 and you will be charged that every 30 days.
If the value provided with Fund My Home is there then price is justified.
My thing is that I have something to say. I pride Smart Affiliate Trends (my blog) in keeping it real with our readers. That's why you need to stick to the end.
My Final Words
At the end of the day…
is this something you should be putting your attention into?
I'm down for working online. I've actually built my own business from my laptop.
But not everything online is something that I would recommend to people. Honestly, it's best we look at what we know about Fund My Home.
First of all, determining rather or not people are using this program to make massive income or for the products is hard to tell.
According to their website:
Home-buyers are required to publicize their "Down Payment Assistance" on their social media when they get a "clear to close" before they close.

This ladies and gentlemen will result in more interested Down Payment Assistance recipients for you to service.
Basically if you're receiving help with their down payment assistance program, they force you to speak about it online rather it's through your Facebook, Twitter or any other media outlet.
As a results of your promotion, if you bring in new applicants, you can expect to see a $3,200 commission per new applicant.
However, I'm confused to what the cost exactly goes towards. I didn't see any further information that disclosed what the funds will be used for in specific.
I do know that once payments are received, it's trickled down in a uni level compensation plan.
If you want a taste of the pie, you need to be bringing in at least one referral per year. To be clear, you don't get the $3,200.
It's split between everyone in a 8 level unilevel system, and all those that qualify be bringing in at least one member a year qualify for earnings.
Keep in mind that personally sponsoring new associate members is one of the only 2 necessary qualifiers needed to receive overrides.
For the most part, your journey will consist in bringing in new affiliates. You will not receive any payments unless you also have 1 applicant each year.
They can be either a mortgage sign up or just an affiliate to reach qualification.
The thing is that they have many incentives for recruiting and no bonuses for actual bonuses for retail sales.
If they want to stay out the way and keep the FTC from breathing down their back, they need more emphasis on their products and less attention on recruiting other affiliates.
Even though they are functioning now, it could be bad for them in the future.
The federal trade commission has been known to take down companies who aren't playing by the rules.
If you doubt that what I am saying is true then you can perform a simple test.
You may already be a member. What is your sales to recruiting ratio like? Don't know, ask a friend and see what they say.
You need to see that there is less affiliate action going on compared to retail sales.
You might not think nothing of all of this.
But this is serious!
Fund My Home has little to no known support for their whole operation.
They are corporation and yet the management team is pretty much non existent.
So their own company is hardly even backing themselves up!
They are clearly fixed on being in the dark about who they are and what they really have going on. They literally have video content that disguisises their voices to sound like robots!
Am I the only person who thinks this is strange?
You may want to have a look at this screenshot: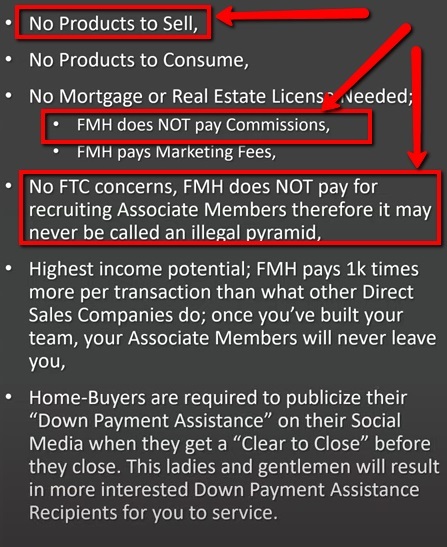 Think about this image for a second.
How is it that they have no product?
Aren't they offering a service?
It gets even more strange that they say they don't pay commissions. However, they have an entire compensation plan that we just outlined.
And then they almost sound guilty by mentioning the FTC to say that there are no concerns, yet they are a Pyramid scheme.
The whole thing is messy if you ask me.
If your someone who wants anything to do with a mortgage then your probably serious. And you don't want to be wasting your time.
You may want a lawyer to have a look at what Fund My Home is offering exactly to be on the safe side.
Unfortunately, I'm not very knowledgeable in mortgages, but I do know when something sounds off. As far as property law goes, consult a professional!
There are two sides of Fund My Home.
Fund My Home is focused on getting others recruit people. It's not a problem that they offer an affiliate program, but there is little retail action going on, making them a Pyramid scheme by nature.
The actual service that they have I can't say much. It's beyond me.
I personally would not join. What you do is up to you!
Listen.
Business opportunities are great, but only if your working with the actual legit stuff that is long term!
Your one click away from working with your own personal mentor, simply click the banner:
"But Tomas, I have no clue what I doing!"
Here's the thing.
There's this program that hooks you up with a mentor. You can get 1 on 1 coaching that LITERALLY is a game changer.
They show you the way and hold your hand. All you have to do is trust their expertise as they are actually people who have already built online businesses successfully.
My final words to you is to keep your wallet tuck from get rich quick schemes. Focus on long term sustainable businesses.
Good luck in your journey,
-Tomas Bishop
P.S.  need help earning money the right way online, click this URL and see how you can work with a personal coach to point you in the right direction.