BAAScorp Review – (2020) Scam or Legit 4% Per Day Blockchain MLM?
You made it to our BAAScorp Review!
I understand that everyone wants to work from home now, considering the pandemic and all that is going on in the world.
You still need to be careful. In fact, I noticed that scammers have been using this as a perfect timing to push out new schemes.
It's gotten so bad that the FTC had to get involved with a ton of companies this year, unfortunately.
BAAScorp tells people they can generate income at will. Results are promised to anyone willing to invest into their program.
I had to find out how they were offering such an opportunity. I never made easy money as en entrepreneur, and I never known of a program that could literally do all the work for you.
So let's learn more.
BAAScorp Review
I like knowing who is behind a company before joining. Typically if a company withholds information on who runs or owns the company, I think twice before joining.
BAASCorp speaks nothing on who is in charge or their team.
I do know that the website had been operational around, December 2nd. I guess you can say this is when they got started.
In their WHOIS results, I could not find any records of a corporate address. It likely has something to do with them setting their domain to private.
This company speaks very highly of themselves by saying they are…
Japan's #1 Blockchain as a service Investment Platform
However, they really don't act like a professional company at all. So how can they be the biggest anything? For instance, I have a problem with how they did put an address on their website that was incomplete. What the heck?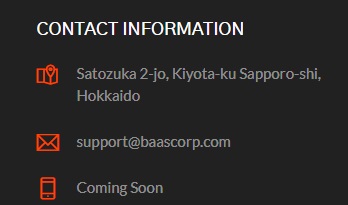 I did see that the website was getting quite a bit of traffic. I used Alexa to see how well they were performing. Based off the states, they appear to be getting most of their visitors from the US.
I would love to give this company the benefit out the doubt. But when they conduct themselves in a non professional manner, it makes it hard. I'd really like to know why they aren't disclosing who runs and owns the company.
BAAScorp Products
As a company, you would think that you would put a ton of effort into explaining exactly what it is that your offering.
In this case, BAASCorp does speak on their opportunity but not in very much detail unfortunately.
BAASCorp blockchain applications are purpose-built and ready to use so you can improve business processes all across the value chain. Using BAASCorp's blockchain applications you can improve and verify product quality, speed product delivery, execute contracts easily, and improve customer satisfaction.
At the end of the day, I seen no product or service on their website. So what the heck are they even talking about?
Of course they have their magical program that apparently pays people when they invest.
Besides that, you can become an affiliate and earn commissions referring others into BAASCorp
With that being said, you really don't have much being offered but a system that lacks transparency and promises it's users money.
Up next we will learn exactly how much money they are saying people can possibly earn.
BAAScorp Compensation Plan
You must have Bitcoin. It's the only form of payment that they take. Once invested in on of their packages, you begin right away earning.
Your income potential will be based on the following plans:
Basic – invest $50 to $500 and receive 2% a day for 150 days
Standard – invest $1000 to $5000 and receive 3% a day for 100 days
Premium – invest $10,000 to $50,000 and receive 4% a day for 100 days
Tracking uses the america dollar but you still have to use Bitcoin in order to get started. After said days, package will expire and you will get your profit. Then you must keep investing if you wish to earn more.
Referral Commissions
BAAScorp uses a a special system called a unilevel compensation plan, and this is how they pay their affiliates
It works by placing the affiliate (YOU) at the top of the pyramid like structure. Once you begin recruiting, they are placed under you, starting at level 1.
If any level 1 affiliates sponsor a new affiliate, the system will place them on the second level of the original affiliate's unilevel team.
If any level 2 affiliates sponsor a new affiliates, the system places them on the third level. At this point, you probably get the point of how this works.
BAASCorp caps their unilevel at seven levels in total.
You can see below what you will be earning based on the level of your down line:
Level 1 (personally sponsored affiliates) – 10% if you've personally sponsored up to ten affiliates, 15% if you've sponsored eleven or more
Level 2 – 7%
Level 3 – 5%
Level 4 – 4%
Level 5 – 3%
Level 6 – 2%
Level 7 – 1%
Squad Income
Squad income is a monthly bonus based on affiliate sponsoring across six levels:
Recruit a downline of 100 affiliates and receive $100 a month
Recruit a downline of 200 affiliates and receive $250 a month
Recruit a downline of 300 affiliates and receive $500 a month
Recruit a downline of 500 affiliates and receive $1000 a month
Recruit a downline of 1000 affiliates and receive $3000 a month
Recruit a downline of 1500 affiliates and receive $5000 a month
Recruit a downline of 2500 affiliates and receive $10,000 a month
Again, required downline are counted only down six unilevel team levels.
Also note that Squat Income payments are made at each tier for twelve months.
How Much is it To Get Started
There is no special requirement to create an account. You can begin recruiting with a free account.
However, it will take you investing Bitcoin to earn passive income. I mentioned the packages in the "compensation plan" section.
You should know that the lowest you need is $50 to participate.
Once it it's time to be paid, it will happen in Bitcoin. So if you have $1,000 in your account and you're ready to cash it out, you will get it in Bitcoin.
Now I understand that it seems like EASY money. Schemes always make it sound that way.
I think it's important you finish this post to the very end.
My Final Words
BAASCorp is AMAZING in theory. They don't ask much to participate and if your struggling financially, you could earn some easy cash.
The thing is something has to be wrong.
Someone could easily be rich using something like this.
I think the reason why the owner is hiding is because he/she knows something doesn't add up .
If no one can be named for this something, they can't get in trouble if anything goes wrong.
They are definitely operating a scam. For one, I checked through their website and they have no product. This means they are in Pyramid Scheme territory.[1]
That's just one problem. These guys need to regulated, especially if they are running around offering an investment opportunity that promises people returns. It's actually a required that they get registered.[2][3]
Unfortunately, they are not.
Not good.
Everything about this company screams BAD…
Joining would be a bad choice.
They are already committing security fraud by not being registered.
On top of that they are definitely a ponzi scheme. They have yet to show us any proof of how they are funding a project like this.[4]
It's no surprise to why the CEO has not claimed this company.
They may be able to payout for a little. But their fall is inevitable. Once the sign ups slow down, anyone involved at the time will lose money.
You won't know who to yell at either, considering that they are an anonymous company.
I would feel bad if I supported a scam. I'm going to have to give you a strong warning to stay away.
However, it's not the time to give up completely. There are people out there building online businesses. No it's not an easy journey but what I'm about to share with you is life-changing.
Your one click away from working with your own personal mentor, simply click the banner:
By partnering up with your own personal mentor, the sky will be the limits.
They can either help you start an online business from scratch, or teach you how to dominate in a business that your already in.
It's truly AMAZING what can happen with the right education.
My advice is to start learning real strategies that are working in the online business. Stop chasing "low-quality" business models that only last a couple of months and then come down crashing.
Thanks for reading my BAASCorp review.
Keep Up with Me:
Check out my channel on YouTube
Good luck in your journey,
-Tomas Bishop
P.S.  need help earning money the right way online, click this URL and see how you can work with a personal coach to point you in the right direction.