Aldamax Review – Huge Scam or Legit MIG Coin MLM
Welcome to my Aldamax Review!
Maybe you are just now learning about this company or maybe you have known about this MLM for awhile.
Either way, you're ready to finally get down to the truth. You want to know if you should join.
Figuring out if a business is good or not can really be frustrating. Everyone has a different opinion. You might have a pal that says it's a good company, while your other buddy is begging you not to join.
The good part about landing here is that we focus on the facts. The truth shall set you free.
So, today I want to break down the products, compensation plan and the overall setup of this business.
Aldamax Review
I noticed that most MLM companies these days don't even bother to share crucial information, like who is the CEO. Aldamax seems to be no different and provides very low information on ownership.
However, they did incorporate a very quick instance of the name Nasser in their marketing material.
I was able to come across his full name after some detective work, and his full name is Nassar Altayer.
Besides the quick mention of is name in some marketing material, he really has no strong ties to the company. In fact, you won't hear anything outside of the company about him being the owner.
They definitely need to work on being more upfront about who they are.
I can't help but question if the guy who is supposedly the CEO is even real. Why can't he be found anywhere on the internet outside of Aldamax?
It made me more curious that when they bought the domain name "Aldamax.com", they added an incomplete address. It just feels like they want to remain annonomous or something.
Whatever the case is, we can only speculate considering the lack of information that they have given. One thing for sure is that it's not looking good.
Aldamax Products
I don't know why theyhave no products or service. If they plan on being around a long time, they can't run around functioning as a Pyramid Scheme.
All legit business must have a product.
Ultimately, it's just you and the opportunity to get others to jon Aldamax.
Basically there is not much going on other than a ton of recruiting.
They do give you access to earn passive income, and add you to their messenger app but none of those thing count as a retail product or service.
The company makes me think  Bitalium, a another MLM I reviewed in the past.
Aldamax Compensation Plan
I believe many people take an appeal for the low entry for participation.
Your out of pocket expense ranges from €100 to €100,000 EUR and this is on a basis that you are guaranteed to earn passively every single month up to 25% off your investment.
You can see no more than a total of 400% ROI.
Besides earning by investing, users can share their referral link and be paid that way.
Referral Commissions
If you get sign-ups and they decided to invest, you earn 10% of the total money they spent during participation.
Residual Commissions
here
When it comes to monthly recurring commissions, Aldamax leverages a binary compensation plan structure.
A binary compensation plan has YOU at the top of the binary structure and splits into two sides (left and right):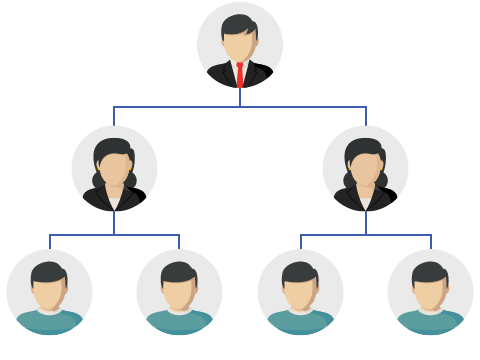 First level of the binary has two positions.
Second level of the binary splits the first two positions into another two making it four in total.
These positions can be filled up directly or indirectly by team members.
At the end of each day Aldamax adds up all the new investment volume through the entire binary structure.
The amount you can earn per day will depend on how much you invested as an affiliate.
For example, if you invested €100 EUR, you can earn €100 EUR in residual commissions per day.
You get paid on the lesser leg and any left over volume gets rolled over to the next pay period.
How Much is It to Get Started
You are required to pay an account creation fee of €50 EUR. Your actual out of pocket expense will depend on how you intend on investing. The more money added into your account will result in bigger earnings.
The cheapest packag is €100 and can go all the way up to €100,000.
You have a lot lose especially if Aldamax turns out to be hype.
Is it though? Well, this is the part where I tell my thoughts and lay out the facts.
My Final Words
So is this program going to make you a ton of money?
Many thhink so. But the facts are honestly disturbing enough to make the claims of this program unbelieveable.
All this talk from them and they have yet to provide anything to us that shows that they are without a doubt the REAL deal.
For intance, we are told that our funds are turned into profit by them going out and doing forex trading. Al though forex is legit… How do we know theyare actually trading. We don't.
At the end of the day, if anything, it all just seems like a cover-up for what is actually going on behind the scenes.
Why is the company CEO not saying loud and proud who he is if the program is so AMAZING like they are advertising?
Could it be that the opportunity is actually illegal and they don't won't their identity associated with a scam?
I mean what is really up withthe huge promises that they make us. The return on investment being promised is INSANE. A person could get rivh in theory with no effort if Aldamax is real.
With that being said, they should at least be regulated. A third party needs to step in to verify that they are sold. Since they are not registered, they are automatically considered a scam and are currently commiting security fraud.
Aldamax has a counterpart that they incorporate which is called MIG Messenger. As far that app goes, you can earn their virtual currency through it.
By the way, it's extremely useless, seeing that they can create the coin at will and determine the price at no cost to them.
You can get the coins at the current price of €0.12 EUR each.
The value can easily be changed by Aldamax and it has no worth outside of their app.
This opportunity is time sensitive.
They won't be around for a good solid year.
And if they are, I'm sure their would have been at least some negative news about them.
They can't maintain their business model for long. It's clear that they are just using investors to pay off existing members. This makes them a Ponzi scheme.[1]
They can't pay anyone if revenue slows down (people stop joining).
Staying away is definitely going to be a good idea for the health of your bank account. People will lose money and it will be bad.
I do not support scams. However, I support you and your business goals. Becoming the CEO of your life is AMAZING. But you need the right business plan.
Your one click away from working with your own personal mentor, simply click the banner:
Learning where to start and get you your business of the ground can be frustrating. But our team can tailor a business plan for you and show you the steps A-Z.
Even if you have a business, they can put you on a new level so that you're getting twice as many leads and sales into your company.
It's hard to fail when they provide you with a personal coach that checks on you and makes sure your doing everything right.
The training program I'm talking about is life-changing.
Instead of joining scams that never last or even work, focus on REAL business strategies that will work long term.
Good luck in your journey,
-Tomas Bishop
P.S.  need help earning money the right way online, click this URL and see how you can work with a personal coach to point you in the right direction.